"I'm free to be myself and enjoy being around my family," Pack member.
The Pack
Understanding the pack requires a paradigm shift. Pack members are neither dependent nor independent of each other. They are interdependent and have a collaborative mentality hence each member is just as valuable as the family system.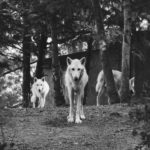 The Wild
In the wild, the pack is in a category all by itself. The pack has legitimate leaders with clear lines of authority with a pecking order. Leadership is questioned from time to time but is respected once established. The family reinforces social norms and rules through order and discipline among the ranks. Although the packs encourage members to be creative and adventurous, every member has a responsibility and role to support the family.
Individuals
Individuality does not threaten the identity of the pack because the relationship bonds of these families are secure. The pack values every member. Members have a strong sense of trust and loyalty. They value relationships and tend to develop stable relationships with each other. In addition, they recognize how they are separate but connected. The relationships are interconnected and interdependent. Therefore, differences are celebrated and viewed as strengths. These families are flexible and adjust easily when needed.
Emotions
Packs are emotionally and intellectually interdependent. "We" is just as important as "me." They are comfortable with themselves and tend to manage anxiety well. They cope well with emotional distance and closeness without becoming overly anxious and nervous. The relationship is responsive rather than reactionary. Since conflicts do not threaten the relationship, they provide opportunities to define their position and self. additionally, members are competitive but not at the expense of others. They operate from an abundance mentality and do not compete for resources. Consequently, the members tend to be good problem solvers and seek win/win solutions.
Be sure to check out the conclusion in the next edition.